December 36

Total: 343
---
Newbury Fire Department has 284 Calls in 2016
Newbury Fire Rescue had 284 calls for service during 2016, one more than 2015 and five less than the all-time record year of 2004. In December there were 40 calls, the second busiest month in our history, only four short of the record of 44 which occurred in July 2015. Being an on call department with no full time employees, months like this with more than one response per day does tax the resources of the department.
There were 99 emergency medical calls were the most frequent response and 35% of the runs. Vehicle incidents were the second highest category with 43 responses or 15% of the total, these calls also often require medical attention. The number of fires, which were mostly brush fires, was up 400% over 2015 because of the very dry conditions during most of the year.
This first chart shows the increase in activity for the Newbury Fire Department over the list 15 years. The last three years have all been just below 300 calls per year.The second chart shows the types of calls in 2016 tje third, responses by each of the NFD apparatus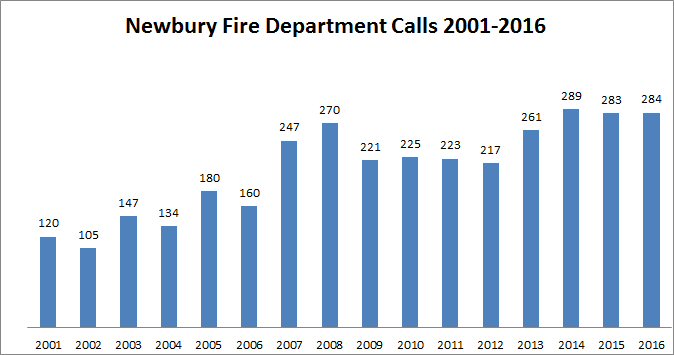 .
.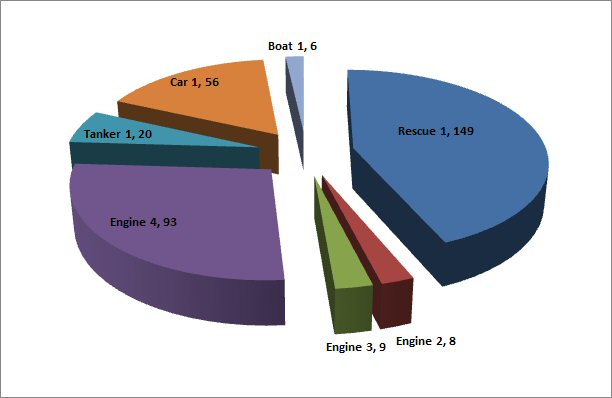 ---
Click here for 2017 Calls Year to date
---
Newbury Fire Department Calls for 2016.
Automobile Accidents

43

Chimney Fires

1

Structure Fires

1

Brush Fires

9

Boat Accidents

4

Vehicle Fires

5

Smoke/Gas Investigation

16

In-House Medical.

73

Service Calls

36

Fuel Spills

0

False Alarms

34

Wires Down

10

Mutual Aid

28

Search & Rescue

2

Other Medical

26

Total Calls 2016.

284
2016 Calls By Month:
December 14

Total: 283
---
Newbury Fire Department Calls for 2014
The Newbury Fire Department responded to 289 calls during 2014. The total is up 11% over 2013.
The types of calls remained consistent with prior years with medicals accounting for one third of the responses for the year. Vehicle accidents, often also requiring medical attention was 18% of the calls. The remaining 48% were fire related calls such as false alarms which was the third largest category at 13% of the total calls.
The below charts show types of calls responded to during the year and the increase in calls over the last six years.
See the Call section for a breakdown of the type of calls for the year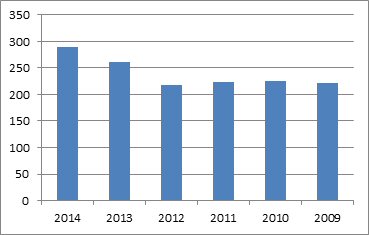 ---
Newbury Fire & Rescue Department Calls for 2014
Automobile Accidents

47

Chimney Fires

5

Structure Fires

2

Brush Fires

2

Boat Accidents

5

Vehicle Fires

1

Smoke/Gas Investigation

23

In-House Medical.

76

Service Calls

30

Fuel Spills

2

False Alarms

37

Wires Down

9

Mutual Aid

26

Search & Rescue

4

Other Medical

20

Total Calls 2014

289
---
Prior Years
Newbury Fire & Rescue Department Calls for 2013
Automobile Accidents

35

Chimney Fires

2

Structure Fires

0

Brush Fires

1

Boat Accidents

1

Vehicle Fires

4

Smoke/Gas Investigation

22

In-House Medical.

69

Service Calls

26

Fuel Spills

4

False Alarms

44

Wires Down

13

Mutual Aid

10

Search & Rescue

3

Other Medical

27

Total Calls 2013

261
---
Newbury Fire & Rescue Department Calls for 2012
Automobile Accidents

22

Chimney Fires

2

Structure Fires

3

Brush Fires

5

Boat Accidents

2

Vehicle Fires

0

Smoke/Gas Investigation

17

In-House Medical.

59

Service Calls

28

Fuel Spills

1

False Alarms

21

Wires Down

14

Mutual Aid

12

Search & Rescue

3

Other Medical

28

Total Calls 2012

217
---
Newbury Fire & Rescue Department Calls for 2011
Automobile Accidents

31

Chimney Fires

0

Structure Fires

2

Brush Fires

0

Boat Accidents

2

Vehicle Fires

0

Smoke/Gas Investigation

23

In-House Medical.

57

Service Calls

36

Fuel Spills

4

False Alarms

33

Wires Down

11

Mutual Aid

8

Search & Rescue

1

Other Medical

15

Total Calls 2011

223
---
Newbury Fire & Rescue Department Calls for 2010
Automobile Accidents

41

Chimney Fires

3

Structure Fires

2

Brush Fires

2

Boat Accidents

3

Vehicle Fires

1

Smoke/Gas Investigation

9

In-House Medical.

63

Service Calls

19

Fuel Spills

1

False Alarms

36

Wires Down

14

Mutual Aid

14

Search & Rescue

1

Other Medical

16

Total Calls 2010

225
---
Newbury Fire & Rescue Department Calls for 2009
Automobile Accidents

39

Chimney Fires

4

Structure Fires

3

Brush Fires

7

Boat Accidents

1

Vehicle Fires

2

Smoke/Gas Investigation

12

In-House Medical.

76

Service Calls

11

Fuel Spills

2

False Alarms

30

Wires Down

5

Mutual Aid

10

Search & Rescue

2

Other Medical

17

Total Calls 2009

221
---
Newbury Fire & Rescue Department Calls for 2008
Automobile Accidents

40

Chimney Fires

2

Structure Fires

3

Brush Fires

2

Boat Accidents

2

Vehicle Fires

2

Smoke/Gas Investigation

19

In-House Medical.

60

Service Calls

34

Fuel Spills

3

False Alarms

33

Wires Down

21

Mutual Aid

29

Search & Rescue

3

Other Medical

17

Total Calls 2008

270
---
Newbury Fire & Rescue Department Calls for 2007
Automobile Accidents

30

Chimney Fires

2

Structure Fires

3

Brush Fires

7

Boat Accidents

3

Vehicle Fires

4

Smoke/Gas Investigation

6

In-House Medical.

79

Service Calls

21

Fuel Spills

5

False Alarms

43

Wires Down

14

Mutual Aid

13

Search & Rescue

4

Other Medical

13

Total Calls 2007

247
---
Newbury Fire & Rescue Department Calls for 2006
Automobile Accidents

21

Chimney Fires

1

Structure Fires

2

Brush Fires

2

Boat Accidents

0

Vehicle Fires

2

Smoke/Gas Investigation

10

In-House Medical.

52

Service Calls

17

Fuel Spills

1

False Alarms

17

Wires Down

10

Mutual Aid

4

Search & Rescue

5

Other Medical

16

Total Calls 2006

160
---
Newbury Fire Department Calls for 2005
Automobile Accidents

21

Chimney Fires

1

Structure Fires

2

Brush Fires

0

Boat Accidents

4

Vehicle Fires

1

Smoke/Gas Investigation

18

In-House Medical.

53

Service Calls

7

Fuel Spills

4

False Alarms

22

Wires Down

9

Mutual Aid

14

Search & Rescue

3

Death

3

Breathing Difficilty

3

Cardiac Problem

3

Trauma

13

Total Calls 2005

180
---
Newbury Fire Department Calls for 2004
Automobile Accidents

26

Chimney Fires

2

Structure Fires

2

Brush Fires

1

Boat Accidents

1

Vehicle Fires

1

Smoke/Gas Investigation

8

In-House Medical.

38

Service Calls

4

Fuel Spills

0

False Alarms

14

Wires Down

6

Mutual Aid

9

Search & Rescue

4

Death

1

Breathing Difficilty

6

Cardiac Problem

2

Trauma

9

Total Calls 2004

134
---
Newbury Fire Department Calls for the Year 2003
Automobile Accidents

29

Chimney Fires

2

Structure Fires

1

Brush Fires

3

Boat Accidents

1

Vehicle Fires

1

Smoke/Gas Problems

9

In-House Medical.

66

Service Calls

6

Fuel Spills

1

False Alarms

14

Wires Down

5

Mutual Aid

8

Search & Rescue

1

Total Calls for 2003

147
---
Newbury Fire Department Calls for the Year 2002
Automobile Accidents

16

Chimney Fires
3
Cardiac Problems

7

Brush Fires
1
Boat Accidents

0

Vehicle Fires
3
Smoke/Odor Problems

9

In-House Medical.
17
Trauma

12

Fuel Spills
2
False Alarms

13

Respiratory Problems
6
Mutual Aid

6

Search & Rescue
0
Wires Down

5

Service Calls
1
Structure Fires

4

Total Calls for 2002

105
---
Newbury Fire Department Calls for the Year 2001
Automobile Accidents
19
Chimney Fires
1
Cardiac Problems
3
Brush Fires
3
Boat Rescues
2
Vehicle Fires
7
Smoke/Odor Problems
6
In-House Medical.
25
Trauma
10
Fuel Spills
3
False Alarms
8
Respiratory Problems
6
Natural Death
4
Search & Rescue
0
Wires Down
1
Service Call
2
Structure Fires
6
Total Calls for 2001 -

120
Return to Main Page