Newbury Fire Department History
The Newbury Fire Department has been in operation since 1927. At a town meeting held on March 8, 1927, Newbury selectmen voted to form a fire department and appropriated $2,000 to purchase fire equipment. They appointed Charles H. Dicy as Fire Chief. The first meeting of the Newbury Fire Department was held on March 19, 1927,in the King's Daughter's Hall. At that meeting, Shirley. R. Powers, was appointed Assistant Chief; Chas H. Brockway, Secretary and Clarence E. Sterns, Treasurer. There were 66 members of the Newbury Volunteer Fire Department at that first meeting.
Fire Chief Dicy was succeeded by Charles Brockway, Shirley Powers, Moses H. Bly, Clark Davis, George Croteau, Scott Wheeler and Henry Thomas.
Newbury's first fire truck was purchased in 1928 and stored in Newbury's first fire station, Dicy's Garage, which was across the street from the present station, where the Outspokin bicycle shop now stands. Church bells were first used for the for a fire alarm to call the volunteers until a siren was acquired.
In 1928 Thomas Leach Jr. donated land for a firehouse which was built by George Symonds on at the current location. That original building was damaged in a fire in 1984 and rebuilt the following year (see below.)
In 1942 The original fire engine was traded in for a 1942 Chevrolet Combination pump (see 83M1 below). In 1948 a 600 gallon tank truck was purchased, which had two Hale 150 gallons per minute portable pumps. In 1956 a Ford 2000 with a 150 gpm pump and a 500 gallon water tank was purchased by the department and in 1956 a Chevrolet tanker was added. In the 1960s a Army surplus 2 1/2 ton 6X6 truck was purchased and used into the 1970s. In 1964, the department purchased a Maxum International pump with a 750 gpm pump. This truck was retired when the 2000 Freightliner was purchased. Also in the 1960s the Newbury Fire Department's first fire boat, the Aquabat, a wooden hulled inboard with a 150 gpm fire pump. The trucks still in service are discussed below.
The original 1928 station had one bay, an additions were added to to the side and rear in order to accommodate additional trucks and equipment.
83M1 1942 Chevrolet Combination pump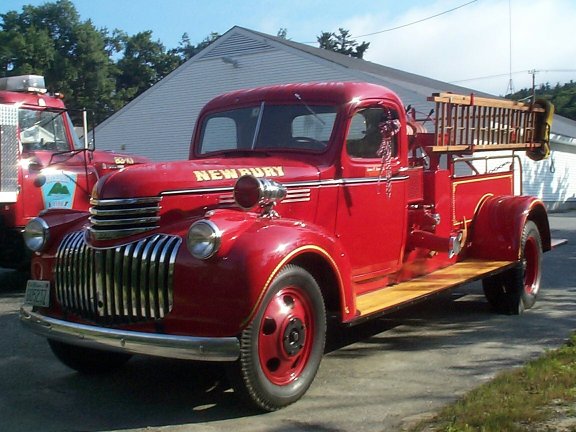 Former 83M3, 1964 Maxum International pump with a 750 gpm pump
Historical information was provided from the Newbury Fire Department records,Alice Lynn and Alan Brown at the Newbury Public Library and "Newbury Past and Present" published by Sunapee Lake Grange No. 112.