Carbon monoxide, also known as CO, is called the "Invisible Killer" because it's a colorless, odorless, poisonous gas. More than 150 people in the Unites States die every year from accidental nonfire-related CO poisoning associated with consumer products, including generators. Other products include faulty, improperly-used or incorrectly-vented fuel-burning appliances such as furnaces, stoves, water heaters and fireplaces. Source: Consumer Product Safety Commission Know the symptoms of CO poisoning
Because CO is odorless, colorless, and otherwise undetectable to the human senses, people may not know that they are being exposed. The initial symptoms of low to moderate CO poisoning are similar to the flu (but without the fever). They include:
Tips from AAA for safe winter driving
Avoid driving while you're fatigued. Getting the proper amount of rest before taking on winter weather tasks reduces driving risks.
Never run a vehicle in an enclosed area, such as a garage.
Make certain your tires are properly inflated.
Keep your gas tank at least half full.
If possible, avoid using your parking brake in cold, rainy and snowy weather.
Do not use cruise control when driving on any slippery surface (wet, ice, sand).
Always look and steer where you want to go.
Use your seat belt every time you get into your vehicle.
Accelerate and decelerate slowly. Applying the gas slowly to accelerate is the best method for regaining traction and avoiding skids. Don't try to get moving in a hurry. And take time to slow down for a stoplight. Remember: It takes longer to slow down on icy roads.
Drive slowly. Everything takes longer on snow-covered roads. Accelerating, stopping, turning – nothing happens as quickly as on dry pavement. Give yourself time to maneuver by driving slowly.
The normal dry pavement following distance of three to four seconds should be increased to eight to ten seconds. This increased margin of safety will provide the longer distance needed if you have to stop.
Know your brakes. If you have anti-lock brakes (ABS) and need to slow down quickly, press hard on the pedal-it's normal for the pedal to vibrate a bit when the ABS is activated.
Don't stop if you can avoid it. There's a big difference in the amount of inertia it takes to start moving from a full stop versus how much it takes to get moving while still rolling. If you can slow down enough to keep rolling until a traffic light changes, do it.
Don't power up hills. Applying extra gas on snow-covered roads just starts your wheels spinning. Try to get a little inertia going before you reach the hill and let that inertia carry you to the top. As you reach the crest of the hill, reduce your speed and proceed down hill as slowly as possible.
Don't stop going up a hill. There's nothing worse than trying to get moving up a hill on an icy road. Get some inertia going on a flat roadway before you take on the hill.
Stay home. If you really don't have to go out, don't. Even if you can drive well in the snow, not everyone else can. Don't tempt fate: If you don't have somewhere you have to be, watch the snow from indoors

Alarm Companies Need Permit to Install and Monitor Fire and Security Alarms in Newbury

Alarm companies that instll, service and monitor fire and security alarms at residences and businesses in the town of Newbury must have a permit from the Newbury Police and Fire Departments.There is no fee for the permit. The Newbury Alarm ordinance requires the permiting of security and fire alarms monitored by an alarm company central station. Under the ordinance, the company that installes, services or monitors an alarm must apply for an Alarm Company Permit.Under the ordinance, unpermitted alarm companies operating in Newbury are subject to a $100 fine.

Alarm Companies installing alarm systems must inform their customers of the town requirement for an alarm permit and that they can apply on the Newbury Fire department website. The alarm company must also notify the Newbury Fire Department in writing of the owner's name and address of the new alarm installation. The notification can be by fax (603)763-5379, completing the on-line form, or by email newburyfire@gmail.com
---
The Application for a Newbury Alarm Permit is now on line
There are now two ways to apply for a fire and security alarm permit in Newbury. The permit application can be completed online (click below in the Online Permit Application) and the application will be electronically submitted to the Town of Newbury. You will be contacted when the permit is issued. As in the past, you can still download and print the permit the application in a pdf file and fax to the Newbury Fire Department or drop off at the police department or town office during normal business hours. Please note that if you change alarm companies, a new alarm permit is required. Alarm permits can only be issued for alarm companies that are permitted by the Town of Newbury, applicants should verify that the alarm company has an Alarm Company Permit from the town.
The on line form can also be used to update your contact information, such as cell and work phone numbers and the names of local contacts that have access to your home if you cannot be reached. If your alarm permit is over two years old, you may need to update your information so that we have the correct phone numbers in an emergency.
The Town of Newbury Alarm Ordinance requires a permit for all business and residential central station fire and security alarms.
The Town of Newbury will access fines for central station alarm systems that do not have the alarm permits and for alarm systems that transmit multiple false alarms. Please see a summary of the ordinance on the Ordinance Page
Click here to fill out a Fire Alarm Permit online
Click here to download and print the Fire Alarm Permit Application The completed permit applications can be faxed to the Newbury Fire Department at 763-5379
---
Fire Prevention and Safety Information
---
Heating Equipment Fire Safety and Permit Requirements
With the cooler weather approaching, many people are thinking about upgrading their heating system or installing a wood or pellet stove. Some residents may not be aware that a permit and fire department inspection is required for all gas and oil furnace and wood burning stoves, even if the installation is not being done as part of a new construction or renovation project. Please contact the fire department for a permit application and to schedule an inspection when you are planning the installation of heating equipment.
Click here to download an Application for Permit to install & Operate Oil Burning Equipment
Click here to download an Application for Permit to Install and Operate Gas/Wood Burning Equipment
Contact Fire Chief Henry E. Thomas, Jr. for information and to schedule an inspection
---
Newbury Fire Deparatment Apparatus
---
---
83 Engine 3
83-Engine 3 is a 2000 Freightliner with 1500 gallon pump and a 1500 gallon tank which serves as the primary mutual aid engine and second response engine to fires in Newbury. This unit carries 1,000 feet of 3 inch hose, 250 feet of 1 3/4 inch hose and 100 feet of 2 1/2 inch foam hose. In addition to fire hose, equipment carried on 83Engine 3 includes 8 Self Contained Breathing Apparatus (SCBA), a 35 ft ladder, 14 ft roof ladder and folding attic ladder, portable fire extinguishers, portable lights and cable, medical equipment, and other assorted tools and equipment.
---
Assembly/Amusement permits
One year ago two people were killed when a circus tent collapsed in a windstorm in Lancaster New Hampshire. Since that time the State Fire Marshal's Office has been focusing on tents used as places of assembly and conducting training for local fire departments on the hazards associated with these temporary structures.
Fortunately the Town of Newbury has been ahead of the curve in this area as the Newbury Fire Department has been inspecting the tents used for the annual craftsmen's fair for many years. With the increased enforcement by the State Fire Marshal's Office, we are now being required to look at some of the smaller events being held on our town and the permits required for tents, places of assembly and the rules for amusement devices such as bounce houses.
If you are planning on holding an event, even on your own property where a tent is being erected, there will be over 50 attendees or amusement devices are being used please contact the Newbury Fire Department for information on the state regulations, and the permit and inspection requirements.
---
Newbury Street Numbering Ordinance
Please keep in mind that the Town of Newbury Street Numbering Ordinance requires that every home and business in Newbury has a street address posted that is visible from the road. The reason for the ordinance was to assure that emergency responders would be able to locate a property in the event of a medical emergency, fire, or other emergency. This is a good time to take a look at your property from the road to confirm that the number can be seen. If you have difficulty, chances are that emergency responders will not see the address number and be delayed. "Help us to find you so we can help you in an emergency"
---
Knox Box
Newbury Fire & Rescue Department Knox Box Program
If you own a property in Newbury, are not always available to answer a call for a fire alarm at your property and do not have someone in the area that has a key to provide the Newbury Fire Department with access to your property. please consider installing a Knox Box.
The Newbury Fire & Rescue Department is part of the "Knox Box" program for emergency building access. A Knox Box is a secure key box containing building keys affixed to the outside of a business or home. If a fire alarm is received or there is a report of other emergency when the building us unoccupied, the fire department utilizes special fire department key, that will open the Knox Box containing the building keys. This eliminates the need to break down doors or windows to enter the building or presume there is no fire when nothing is visible from the outside. The ability to thoroughly inspect a building will enable the responders to locate other problems such as electrical hazards, heating problems and gas and water leaks set off an alarm and could lead to costly other problems if not identified. The Knox Box system is only used to enter a building in the event of a fire department emergency response to an alarm activation or report of an emergency at the location.
.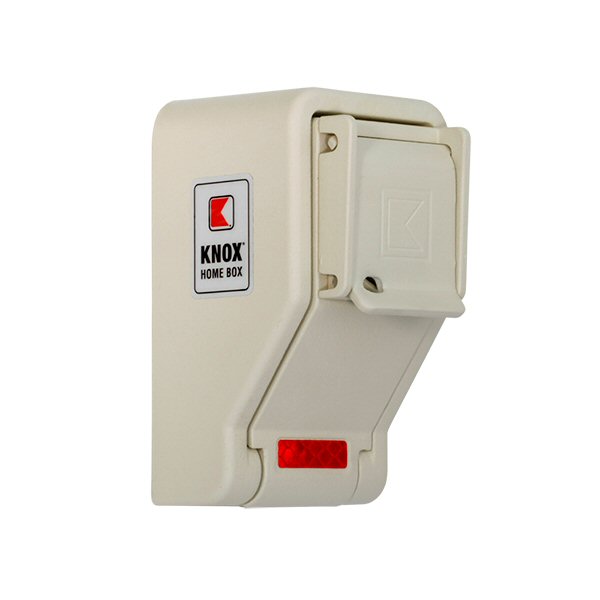 The fire department key is secured in special Knox Box on the truck that can only be opened by authorized personnel and all openings of the box are electronically recorded. Knox Boxes keyed to the Newbury system are purchased by the building owner from the Knox Box company and are installed in accordance with fire department specifications. Knox Boxes are generally installed at locations with Town of Newbury permitted central station fire alarm systems, where the Newbury Police and Fire Departments have emergency contact information. Building owners or their authorized emergency contacts are notified of every alarm notification and when the Knox Box is used to provide emergency personnel with access to the building. Emergency contact Information provided is kept confidential by the police and fire departments.
New commercial, multi-family (4+), seasonal residences and gated properties are required to have a Knox Box as part of the building permit process.
Information on the Knox Box system is available on the company's website www.knoxbox.com, For residential and small business use the Knox Residential 1650 Series surface mount box is used. Other models are available for larger businesses where multiple access keys may be needed, for new construction and other special requirements. Knox Boxes keted to the Newbury Fire Department system can be ordered on line from the Knox Box company Knoxbox.com or the new Knox Home Box website for residential boxes and the Newbury Fire Department will be notified of your order and install the box when it is received. If you have questions, please contact the department at newburyfire@gmail.com
---
Get the NH Alerts App

NH Alerts is a free service provided by the New Hampshire Department of Safety Division of Homeland Security and Emergency Management. Emergency and community messages are initiated by authorized public safety officials at the State level and severe weather warnings are initiated directly by the National Weather Service.

The app delivers notifications to subscribers within a specific geographic area. If you are not receiving alerts through this application, you are not currently in an area identified with a potential public safety threat by the New Hampshire Department of Safety Division of Homeland Security and Emergency Management.

NH Alerts is used by New Hampshire public safety officials to inform and protect State residents and visitors. The NH Alerts app is free and available at the App Store and Google Play. No registration is required. Users are encouraged to enable their GPS services so the app can deliver location-based multimedia alerts to subscribers within a specific geographic area. Users may visit the NH Alerts app settings to select the alerts they would like to receive.

The app delivers notifications to subscribers within a specific geographic area. If you are not receiving alerts through this application, you are not currently in an area identified with a potential public safety threat by the New Hampshire Department of Safety Division of Homeland Security and Emergency Management.

Click here to go to the Ready NH.Gov NH Alerts website and to download the app
---
Weather Emergency Contact List
The Newbury Fire Department maintains a list of town residents who may live alone, do not have transportation, be elderly or disabled that the department will check on in the event of severe weather such as a blizzard, Ice storm or long duration power failure or other emergency impacting the Town of Newbury. The department is currently updating the list and adding new people who wish to be contacted.
Following a major storm, a telephone call is made to check on the well being of people on the list. If the person can't be reached by phone, a fire department member will go to the home to check on the person.
If you, a family member or neighbor would like contacted in a weather emergency by the Newbury Fire Department, please send an email with the person's name, address and phone number to newburyfire@gmail.com, Please indicate "Weather Emergency Contact List" in the subject of the email. This contact information remains confidential and is not shared with any other organization. Please email the Newbury Fire Department if you have questions.
---
Code Red
The Town of Newbury and five other towns in our area have contracted with the CodeRED reverse emergency notification system, which allows the town to call you in an emergency.
If you received telephone calls or voicemail messages from Code Red in the past, you are registered in the Code Red system and no additional action is needed. You will automatically receive future Code red messages.
The current CodeRED database comprises commercially-available phone numbers (such as those provided on credit applications) and numbers added directly by residents of the six communities. To ensure that your phone number (including cell phone) is in the database, go to your Town's website or click here to access the CodeRED Emergency Notification Network update form
Required information includes a street address (physical address, no P.O. boxes) for location purposes and at least a primary phone number. Additional phone numbers, email and text addresses may also be entered. Even if you have an unlisted phone number, you can safely register your phone number in the CodeRED database; the information will not be sold nor will it be used for any purpose other than emergency contact from the town.
If you do not have internet access, please call Patricia McDonald at the Town Office (763-4940 x201) and she will enter the information for you.
---
Fire Safety Information
---
The C-5 business meeting is the first Wednesday of each month at 6:30PM in the New London New London Fire department training Room.
---
Newbury Fire Department Resident Emergency Information Form In order to better serve the residents of Newbury in the event of a fire, medical or other emergency, the Newbury Fire Department is in process of updating the street listing information. Please complete the attached form for our emergency response database print and mail to the Newbury Fire Department PO Box 373, Newbury NH 03255. We plan to be able to submit the forms electronically in the near future.
---