Ask a friend to grasp the tops of the arm openings and gently pull up.
---
Mutual Aid to Sunapee for motor vehicle crash
On Friday, May 20th Newbury Fire Rescue provided mutual aid assistance to the Sunapee Fire Department for a motor vehicle crash on Route 103 a half mile from the Newbury town line.
The occupants of both vehicles were trapped in the cars and had to be extricated using Sunapee's and Newbury's hydraulic rescue tools (jaws of life) two ambulances from New London Hospital assisted in providing care for the injured parties.
Two DHART medical helicopters landed on Route 103 (which was closed for over an hour) and both patients were transported by helicopter to the hospital.
---
Newbury Mountain Rescue
Newbury Fire Rescue, along with crews from Goshen, Lempster, Upper Valley Search & Rescue and New Hampshire Fish & Game conducted a rescue of a female hiker on the Kearsarge Ragged Sunapee Greenway trail between Mount Sunapee in Newbury and Pillsbury State Park in Washington. The hiker who had non-life threatening injuries was brought down from the trail, by the rescuers in the rescue that lasted several hours, and was transported to the hospital by New London Ambulance
---
HikeSafe Hiker Responsibility Code

With the recent hiker rescue from Mount Sunapee fresh in our minds, this is a good time to think about the New Hampshire Fish & Game Hike Safe Program Hiker Responsibility Code

You are responsible for:

Knowledge and gear. Become self reliant by learning about the terrain, conditions, local weather and your equipment before you start.
To leave your plans. Tell someone where you are going, the trails you are hiking, when you'll return and your emergency plans.
To stay together. When you start as a group, hike as a group, end as a group. Pace your hike to the slowest person.
To turn back. Weather changes quickly in the mountains. Fatigue and unexpected conditions can also affect your hike. Know your limitations and when to postpone your hike. The mountains will be there another day.
For emergencies. Even if you are headed out for just an hour, an injury, severe weather or a wrong turn could become life threatening. Don't assume you will be rescued; know how to rescue yourself.
To share the hiker code with others.

Additional information is available on the Fish & Game Hike safe website
---
Central New Hampshire EMS Conference
Six members of the Newbury Fire Rescue Emergency Medical Services (EMS) staff attended the two day Central New Hampshire EMS Conference held at Mount Sunapee Resort on April 30 and May 1. Sessions included New CPR techniques, critical incident stress, medical helicopter emergencies, wilderness incidents, speed & impact, active shooter and incidents involving drugs. The DHART helicopter and ground unit as well as New London ambulances were on display for conference attendees.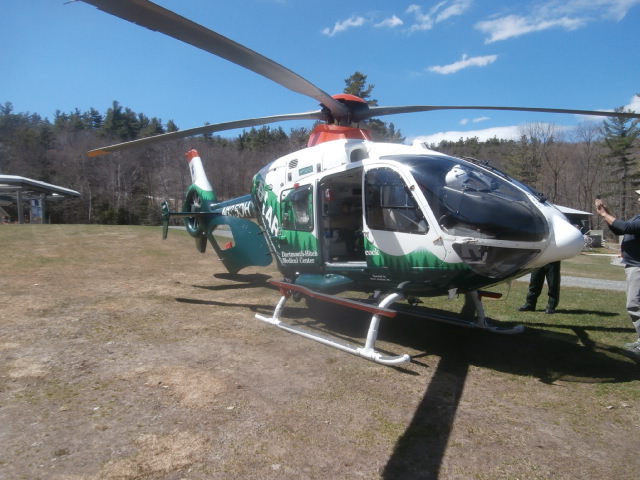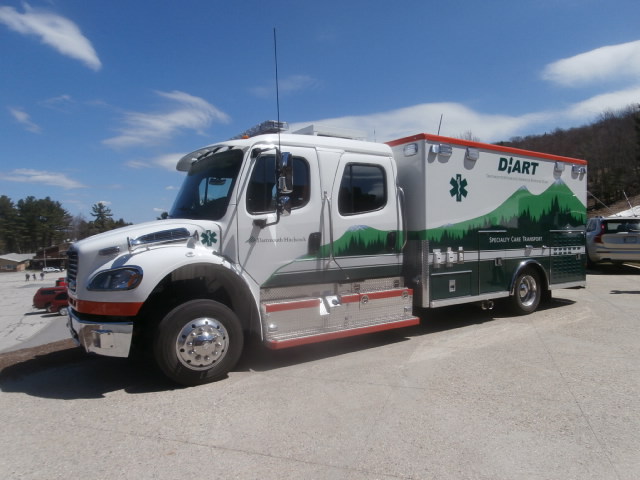 ---
Permits are required for outside burning
See Outside burning section on Ordinance Page for outside burning regulations and information on applying for a Outside Burning Permit
Find out the Predicted Fire Danger for today from the NH Bureau of Forests and Lands
Fire Danger Definitions:
1 LOW: When the fire danger is "low" it means that fuels do not ignite easily from small embers, but a more intense heat source, such as lightning, may start fires in duff or dry rotten wood.
2 MODERATE: When the fire danger is "moderate" it means that fires can start from most accidental causes, but the number of fire starts is usually pretty low.
3 HIGH: When the fire danger is "high", fires can start easily from most causes and small fuels (such as grasses and needles) will ignite readily.
4 VERY HIGH: When the fire danger is "very high", fires will start easily from most causes. The fires will spread rapidly and have a quick increase in intensity, right after ignition.
5 EXTREME: When the fire danger is "extreme", fires of all types start quickly and burn intensely. All fires are potentially serious and can spread very quickly with intense burning.

For information on the outside burning rules, Download the NH DES Guide to Open Burning or the NH Division of Forests and Lands Outside Burning Brochure

Information on the permit requirements and the permits may be obtained at no charge from the Newbury Department or Newbury Forest Fire Warden or Deputy Wardens.
Henry Thomas Fire Chief, Newbury Fire Department 344-9381 e-mail: newburyc1@aol.com
Dave Smith, Forest Fire Warden 938-5925
Mike Croteau, Deputy Forest Fire Warden: 763-2679
---
Controlling the burn
Keeping outdoor fires under control
As the temperature rises each year, so do the risks associated with outdoor fires. In spring, the risks mainly come from brush fires (either in the wild or related to folks burning yard debris after spring cleaning). In summer, barbeques, bonfires, and campfires become a more significant part of the action.
Here are some reminders about how you can cut down the risk of outdoor fires getting out of control:
When out in the woods
Avoid open fires during April and May, when there's still plenty of fire fuel lying around in the form of dead grasses and brush: these items can ignite easily and spread in an instant.
Likewise, be careful with any kind of flame or ignition source: matches, cigarettes, ashes, etc. It takes only a single spark to start a deadly wildfire.

When making a burn pile in your yard
Before you light it up, call your local forest fire warden for a burn permit, and ask if there are any special instructions for burns in your community.
Wait for the right day to burn. There should be little to no wind and it shouldn't be too dry.
Burn only limbs and branches, untreated wood, and certain grasses or natural materials. Treated woods and certain poisonous plants can give off dangerous fumes.
Never burn trash. It's bad for you. It's bad for the environment. And it's illegal.

When having a BBQ

•Once you're done with the barbeque, let the fire go out completely and wait until the coals are cool to the touch, then transfer the coals and ashes to a covered metal container. Leave it in a safe place outside until it's completely cooled off and out. As with woodstove ashes, this can take up to a week!

When working with any kind of outdoor fire at all
Check with your fire warden before you burn to see whether it's legal and safe. There may be a burning ban in place if general weather trends create dangerously dry conditions (say, after a snowless winter like 2011-12).
Don't have any kind of outdoor fire on a windy day or in dry conditions.
Clear the ground of flammable material for at least 10 feet around your fire or barbeque.
Never locate an open fire within 50 feet of any structure, and give yourself at least 10 or more feet for a barbeque.
Have fire tools and a water supply available before you light anything.
Have an adult present at all times, and keep pets and children away from the fire.
If you must use lighter fluid, use only fluids intended for that purpose. Never throw gas or similar fuels onto a fire!
(This fire prevention information was provided by the VT Division of Fire Safety)
---
Alarm Companies Need Permit to Install and Monitor Fire and Security Alarms in Newbury
Alarm companies that instll, service and monitor fire and security alarms at residences and businesses in the town of Newbury must have a permit from the Newbury Police and Fire Departments.There is no fee for the permit. The Newbury Alarm ordinance requires the permiting of security and fire alarms monitored by an alarm company central station. Under the ordinance, the company that installes, services or monitors an alarm must apply for an Alarm Company Permit.Under the ordinance, unpermitted alarm companies operating in Newbury are subject to a $100 fine.
Alarm Companies installing alarm systems must inform their customers of the town requirement for an alarm permit and that they can apply on the Newbury Fire department website. The alarm company must also notify the Newbury Fire Department in writing of the owner's name and address of the new alarm installation. The notification can be by fax (603)763-5379, completing the on-line form, or by email newburyfire@gmail.com
---
The Application for a Newbury Alarm Permit is now on line
There are now two ways to apply for a fire and security alarm permit in Newbury. The permit application can be completed online (click below in the Online Permit Application) and the application will be electronically submitted to the Town of Newbury. You will be contacted when the permit is issued. As in the past, you can still download and print the permit the application in a pdf file and fax to the Newbury Fire Department or drop off at the police department or town office during normal business hours. Please note that if you change alarm companies, a new alarm permit is required. Alarm permits can only be issued for alarm companies that are permitted by the Town of Newbury, applicants should verify that the alarm company has an Alarm Company Permit from the town.
The on line form can also be used to update your contact information, such as cell and work phone numbers and the names of local contacts that have access to your home if you cannot be reached. If your alarm permit is over two years old, you may need to update your information so that we have the correct phone numbers in an emergency.
The Town of Newbury Alarm Ordinance requires a permit for all business and residential central station fire and security alarms.
The Town of Newbury will access fines for central station alarm systems that do not have the alarm permits and for alarm systems that transmit multiple false alarms. Please see a summary of the ordinance on the Ordinance Page
Click here to fill out a Fire Alarm Permit online
Click here to download and print the Fire Alarm Permit Application The completed permit applications can be faxed to the Newbury Fire Department at 763-5379
---
Fire Prevention and Safety Information
Medical Oxygen Safety
Portable medical oxygen in the home has grown over the past decade. Medical oxygen adds a higher percentage of oxygen to the air a patient uses to breath. Fire needs oxygen to burn. If a fire should start in an oxygen-enriched area, the material burning will burn more quickly. Homes where medical oxygen is used need specific fire safety rules to keep people safe from fire and burns.
SAFETY TIPS
There is no safe way to smoke in the home when oxygen is in use. A patient on oxygen should not smoke.
Candles, matches, wood stoves and even sparking toys, can be ignition sources and should not be used in the home.
Keep oxygen cylinders at least five feet from a heat source, open flames or electrical devices.
Body oil, hand lotion and items containing oil and grease can easily ignite. Keep oil and grease away where oxygen is in use.
Never use aerosol sprays containing combustible materials near the oxygen.

Post No Smoking and No Open Flames signs in and outside the home to remind people not to smoke.

(Source: National Fire Protection Association)
---
Home Fire Extinguishers
As a general rule, firefighting should be left to the fire department.
Only adults who know how to use portable fire extinguishers should use them.
Before trying to fight a fire, make sure that everyone is leaving the house, someone is calling 9-1-1, the extinguisher is mounted on the wall close to your way out, the fire is not bigger than a small wastepaper can and you can get out.
Inspect portable extinguishers monthly and have them serviced annually.
Follow the manufacturer's instructions for placement and mounting height.
As a general rule, portable fire extinguishers for the home should have a rating of at least 2-A:10-B:C.

---
Newbury Fire Deparatment Apparatus
---
New London Ambulance 4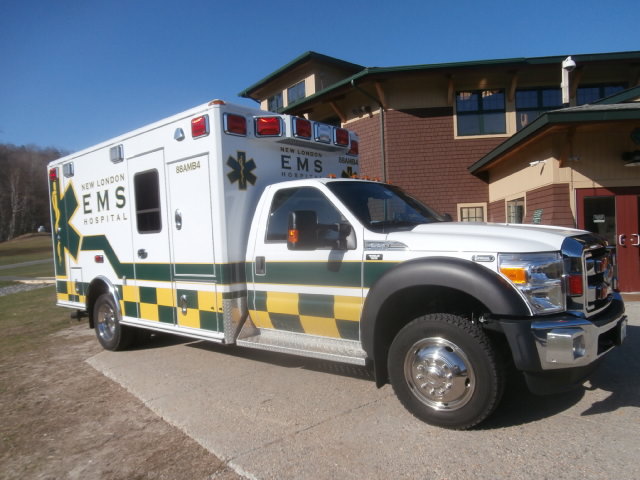 New London Ambulance 4 is operated by New London Hospital, Newbury's Emergency Medical transport partner. Ambulance 4 is a 2016 Wheeled Coach Ambulance on a Ford F550 4X4 Chasses. This is New London Ambulance's first four wheel drive truck, which is an advantage on Newbury's hilly snow covered roads during the winter months. The new ambulance was recently put into service and covers the western section of Newbury from the Sunapee Fire Department headquarters. New London Ambulance 1 covers the northern and southern parts of Newbury from New London Hospital. All medical emergency calls in Newbury receive a response from Newbury Rescue 1 and One of the New London ambulances. A Newbury engine responds with the rescue and New London ambulance to all motor vehicle accidents. Newbury Fire Rescue personnel recently conducted training with the new London Ambulance staff on the new truck.
Newbury Street Numbering Ordinance
Please keep in mind that the Town of Newbury Street Numbering Ordinance requires that every home and business in Newbury has a street address posted that is visible from the road. The reason for the ordinance was to assure that emergency responders would be able to locate a property in the event of a medical emergency, fire, or other emergency. This is a good time to take a look at your property from the road to confirm that the number can be seen. If you have difficulty, chances are that emergency responders will not see the address number and be delayed. "Help us to find you so we can help you in an emergency"
---
Knox Box
Newbury Fire & Rescue Department Knox Box Program
If you own a property in Newbury, are not always available to answer a call for a fire alarm at your property and do not have someone in the area that has a key to provide the Newbury Fire Department with access to your property. please consider installing a Knox Box.
The Newbury Fire & Rescue Department is part of the "Knox Box" program for emergency building access. A Knox Box is a secure key box containing building keys affixed to the outside of a business or home. If a fire alarm is received or there is a report of other emergency when the building us unoccupied, the fire department utilizes special fire department key, that will open the Knox Box containing the building keys. This eliminates the need to break down doors or windows to enter the building or presume there is no fire when nothing is visible from the outside. The ability to thoroughly inspect a building will enable the responders to locate other problems such as electrical hazards, heating problems and gas and water leaks set off an alarm and could lead to costly other problems if not identified. The Knox Box system is only used to enter a building in the event of a fire department emergency response to an alarm activation or report of an emergency at the location.
The fire department key is secured in special Knox Box on the truck that can only be opened by authorized personnel and all openings of the box are electronically recorded. Knox Boxes keyed to the Newbury system are purchased by the building owner from the Knox Box company and are installed in accordance with fire department specifications. Knox Boxes are generally installed at locations with Town of Newbury permitted central station fire alarm systems, where the Newbury Police and Fire Departments have emergency contact information. Building owners or their authorized emergency contacts are notified of every alarm notification and when the Knox Box is used to provide emergency personnel with access to the building. Emergency contact Information provided is kept confidential by the police and fire departments.
New commercial, multi-family (4+), seasonal residences and gated properties are required to have a Knox Box as part of the building permit process.
Information on the Knox Box system is available on the company's website www.knoxbox.com, For residential and small business use the Knox Residential 1650 Series surface mount box is used. Other models are available for larger businesses where multiple access keys may be needed, for new construction and other special requirements. Knox Boxes keted to the Newbury Fire Department system can be ordered on line from the Knox Box company Knoxbox.com and the Newbury Fire Department will be notified of your order and install the box when it is received. If you have questions, please contact the department at newburyfire@gmail.com
---
Get the NH Alerts App

NH Alerts is a free service provided by the New Hampshire Department of Safety Division of Homeland Security and Emergency Management. Emergency and community messages are initiated by authorized public safety officials at the State level and severe weather warnings are initiated directly by the National Weather Service.

The app delivers notifications to subscribers within a specific geographic area. If you are not receiving alerts through this application, you are not currently in an area identified with a potential public safety threat by the New Hampshire Department of Safety Division of Homeland Security and Emergency Management.

NH Alerts is used by New Hampshire public safety officials to inform and protect State residents and visitors. The NH Alerts app is free and available at the App Store and Google Play. No registration is required. Users are encouraged to enable their GPS services so the app can deliver location-based multimedia alerts to subscribers within a specific geographic area. Users may visit the NH Alerts app settings to select the alerts they would like to receive.

The app delivers notifications to subscribers within a specific geographic area. If you are not receiving alerts through this application, you are not currently in an area identified with a potential public safety threat by the New Hampshire Department of Safety Division of Homeland Security and Emergency Management.

Click here to go to the Ready NH.Gov NH Alerts website and to download the app
---
Weather Emergency Contact List
The Newbury Fire Department maintains a list of town residents who may live alone, do not have transportation, be elderly or disabled that the department will check on in the event of severe weather such as a blizzard, Ice storm or long duration power failure or other emergency impacting the Town of Newbury. The department is currently updating the list and adding new people who wish to be contacted.
Following a major storm, a telephone call is made to check on the well being of people on the list. If the person can't be reached by phone, a fire department member will go to the home to check on the person.
If you, a family member or neighbor would like contacted in a weather emergency by the Newbury Fire Department, please send an email with the person's name, address and phone number to newburyfire@gmail.com, Please indicate "Weather Emergency Contact List" in the subject of the email. This contact information remains confidential and is not shared with any other organization. Please email the Newbury Fire Department if you have questions.
---
Code Red
The Town of Newbury and five other towns in our area have contracted with the CodeRED reverse emergency notification system, which allows the town to call you in an emergency.
If you received telephone calls or voicemail messages from Code Red in the past, you are registered in the Code Red system and no additional action is needed. You will automatically receive future Code red messages.
The current CodeRED database comprises commercially-available phone numbers (such as those provided on credit applications) and numbers added directly by residents of the six communities. To ensure that your phone number (including cell phone) is in the database, go to your Town's website or click here to access the CodeRED Emergency Notification Network update form
Required information includes a street address (physical address, no P.O. boxes) for location purposes and at least a primary phone number. Additional phone numbers, email and text addresses may also be entered. Even if you have an unlisted phone number, you can safely register your phone number in the CodeRED database; the information will not be sold nor will it be used for any purpose other than emergency contact from the town.
If you do not have internet access, please call Patricia McDonald at the Town Office (763-4940 x201) and she will enter the information for you.
---
Fire Safety Information
---
The C-5 business meeting is the first Wednesday of each month at 6:30PM in the New London New London Fire department training Room.
---
Newbury Fire Department Resident Emergency Information Form In order to better serve the residents of Newbury in the event of a fire, medical or other emergency, the Newbury Fire Department is in process of updating the street listing information. Please complete the attached form for our emergency response database print and mail to the Newbury Fire Department PO Box 373, Newbury NH 03255. We plan to be able to submit the forms electronically in the near future.
---